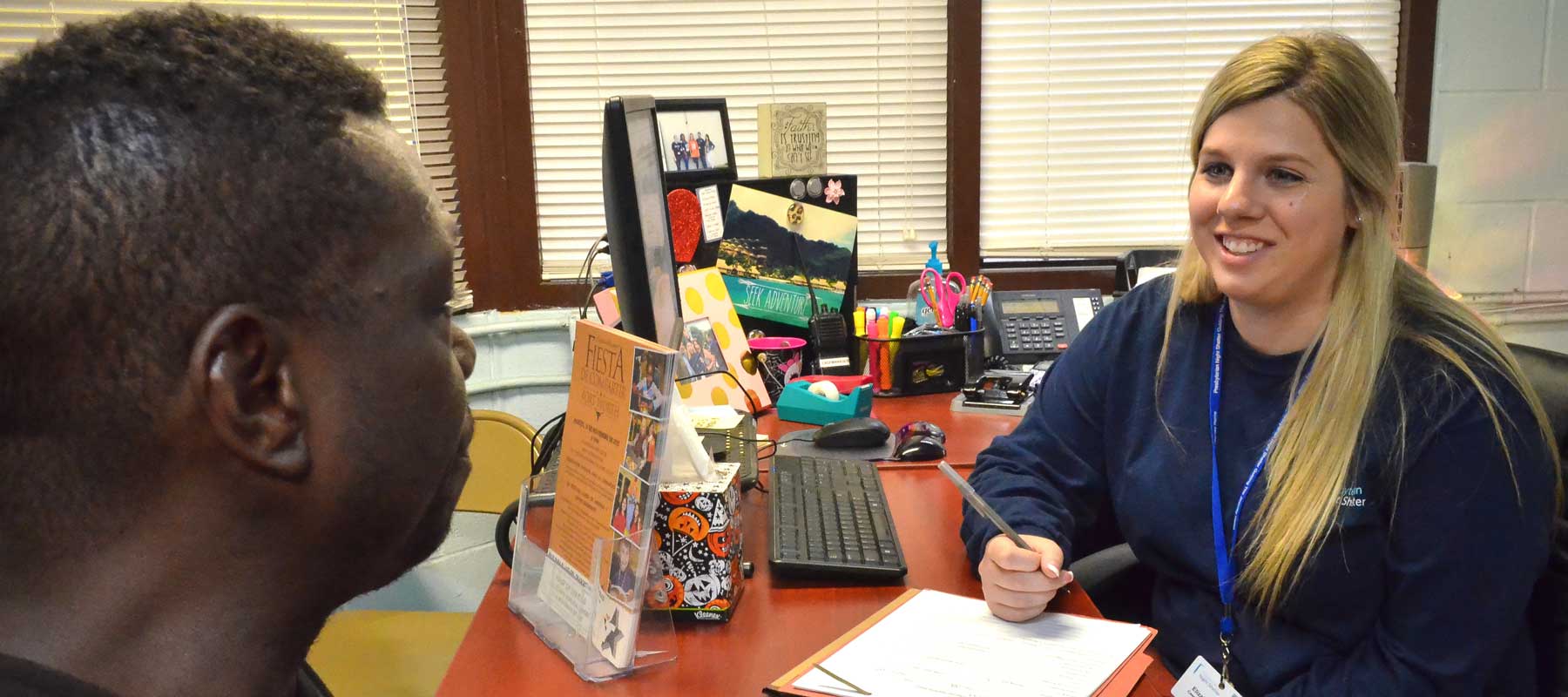 Journey Home Program Manager – Veterans Services
Title
Journey Home Program Manager – Veterans Services
Journey Home Program Manager – Veterans Services  
Presbyterian Night Shelter is known for serving the homeless in greatest need: those who have no other places to go.  Those who present the greatest challenge to our community are welcome here.  As the largest homeless shelter in Tarrant County, we serve approximately 1,000 men, women and children each night.
Presbyterian Night Shelter staff members strive with mutual respect and compassion to serve with integrity, taking responsibility for our actions to foster hope in the journey from homeless to home.
Job Summary
The Journey Home Program Manager will be responsible for managing the day-to-day operations of the transitional housing programs, the shelter-based veterans programs, and the veteran peers. Directly supervises journey home guides and veteran peers with the primary goal of exiting guests to permanent housing and self-sufficiency.   Duties include collecting, analyzing, and reporting guest utilization of shelter services, supportive services, and progression toward housing goals.  As a member of management, support administrative leadership team including other Journey Home Program Managers and Vice Presidents, Programs, Finance, and Development, Vice President of Human Resources, and the Chief Executive Officer. 
·         Hire, train and supervise the staff of all Veterans Services.
·         Establish practices that support best possible outcomes in areas of responsibility
·         Maintain good working collaboration with the Department of Veteran Affairs to provide a coordinated service delivery system.
·         Ensure program and case management continuity with the primary goal of exiting guests to permanent housing.
·         Assist the Vice President of Program Services in grant management, the development of outside network of service providers, and in establishing and conducting evaluations to meet funder requirements in relation to assigned programs and program staff.
·         Monitor VA program expenditures.  Enforce proper spending of all employees and other indirect reports.  Ensure that VA spending remains within budgetary guidelines and that over-expenditure has prior approval.
·         Ensure thorough and appropriate documentation of guests, including both electronic and hard copy files.
·         Facilitate gathering of information for grant and contract applications.
·         Facilitate gathering of information for grant and contract reports.
·         Monitor safety practices.  Work with personnel to ensure safety of residents.
·         Protect confidentiality and privacy of residents, including photographs, written and oral communication of their identifying information.
·         Communicate incidents to upper management within critical incident guidelines.
·         Facilitate on-site service delivery with external agencies, including providers of mental health services, substance abuse services, financial assistance, domestic violence services, medical care, and other services, for the purposes of decreasing barriers to care and increasing the likelihood that homeless veteran's individuals will seek services.
·         Ensure the program(s) creates an environment respectful of the dignity of individuals, compassionate toward their needs and encourages movement from homelessness to independence.
·         Act in accordance with agency mission and values at all times.
Qualifications
·         Bachelor's degree in social service or related field required, Master's degree preferred.
·         Veteran of US Armed Forces preferred
·         Minimum of two years supervisory experience in residential environment required. 
·         Must have experience with homeless or transient population and/or residential population experiencing substance abuse disorders or mental illness. 
·         Experience in working with homeless veterans strongly preferred.
·         Current knowledge of the local network of services preferred.
·         Knowledge of Microsoft Word and Excel is required.
·         Valid driver license is required.
This is a full-time, salaried position with benefits.  Email cover letter and resume to drabalais@journeyhome.org  , no phone calls please.
Presbyterian Night Shelter is an Equal Opportunity Employer